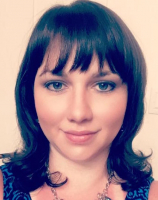 Emily Perraut, LLP
MA - Master of Arts
One of the most important parts of therapy is establishing a safe, empathic, honest, and non-judgmental therapeutic relationship. This relationship serves to provide a collaborative environment in order to more effectively help support you in reaching your personal goals. Through the therapeutic process, I strive to guide you in developing greater understanding and insight into your unique experiences, thoughts, feelings, and behaviors, which promotes empathy, self-compassion, and healing, so that you may live a more fulfilled and conscious life of your choosing. My MA is in Clinical Psychology and I am supervised by Dr. Linda Schonberg, PsyD, LP.

I'm developing a specialty in treating a range of anxiety disorders, including PTSD and trauma. I have experience treating anxiety/PSTD/trauma, and depression, and also helping people cope with issues including grief/loss, parenting, self-sabotage, self-esteem, eating, stress, conflictual relationships, major life adjustments, and codependence, etc.

I am becoming certified in Brainspotting, which is a treatment method used to identify, process and release neurophysiological sources of trauma, negative experiences, emotional and physical pain, dissociation, and a variety of other challenging symptoms, and can also serve to enhance creativity and performance.

I believe that healing occurs through a combination of inner and relational processes that encourage increased self-awareness, mindfulness, honesty, authenticity, self-love, acceptance, and a balanced mind-body-spirit relationship. I utilize a combination of approaches and techniques tailored to each person's needs, desires, background, and goals.

Anxiety disorders
Complex Developmental Trauma/PTSD
Trauma and PTSD
Attachment Issues
Couples Therapy/Relationship Issues
Depression and Anxiety
Generalized Anxiety
Self Compassion
Mind-Body Interactions
Mindfulness practice
Humanistic psychology
Anxiety disorders
PTSD
Attachment Issues
Complex Developmental Trauma/PTSD
Adult Survivors of Child Abuse/Trauma
Depressive Disorders
Emily Perraut, LLP's Videos
Play, Learn, and Grow
Emily Perraut, LLP's Articles
Discover New Pearls of Wisdom