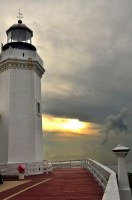 Joanna Smith, LMHC, NCC
MS - Master of Science
My vision as a Mental Health Counselor is witnessing people achieve the "Healing and Restoration of the Mind, Body and Soul" they seek through counseling. My mission as a counselor is to help guide people toward achieving the inner peace and self restoration through therapeutic methods and self-revelation. Through counseling individuals are able to create and apply positive cooping skills, build a solid foundation, higher self-confidence, strengthen bonds of relationships and create a positive living environment that is encouraging for themselves and their love ones.
Among the various services I provide, here is a general list of counseling services I am able to offer at my Clearwater location: Christian Counseling, Individual Counseling, Group counseling - Support Groups, Grieving Counseling, Team Building, Marriage/Couple Counseling Post Traumatic Stress Disorder (PTSD) Crisis &Trauma, Career Exploration and Hypnosis.
I provide a variety of services for mental health needs for all. If you are interested in discovering more information about my services or want a telephone consultation, please feel free to contact me.
Individual
Group Therapy
Anger Management
Depression and Anxiety
Depressive Disorders
Couple and Family Therapy
Mediation
Hypnotherapy
Behavioral Couples Therapy
Adjusting to Change / Life Transitions
Finding Clarity and Balance
Cognitive Behavioral Therapy (CBT)
Solution focused brief therapy
Complex Developmental Trauma/PTSD
Complex Trauma
Crisis Intervention
Christian Counseling
Career/Life Balance
Self Esteem
Self Exploration
Depression and Anxiety
Depressive Disorders
Couples Conflicts
Behavioral Couples Therapy
individuals
Self Esteem
Joanna Smith, LMHC, NCC's Videos
Play, Learn, and Grow
Joanna Smith, LMHC, NCC's Articles
Discover New Pearls of Wisdom