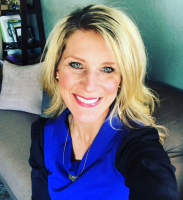 Christine Ellis, M.A., M.S., LPC
M.A., M.S. - Master or Arts; Master of Science
Christine Ellis enjoys working with people of all ages helping to fulfill their interpersonal and relationship goals and create optimal mental and physical health. She applies relevant, brain-health focused techniques (Amen Clinics Brain Health Coaching Training) to fulfill client goals while relying on evidence-based research to inform weekly sessions with clients. Ms. Ellis is also a C.O.P.E. Certified Health Coach to empower nutrition goals. Ms. Ellis is an active member of the American Counseling Association as well as numerous local and state initiatives related to helping people and communities reach their unique potentialities. Learn more about Ms. Ellis' practice, counseling and health coaching tools at www.tncwellness.com.

Treatment specialization includes:

Depression, Anxiety, and Trauma Therapy
Counseling for Children and their parents ages prenatal through 18
Couples Counseling
Family Counseling
Parenting; Healthy Co-Parenting
Grief Counseling
Work, Life and Career Issues
Stress Management
Post Addiction & Recovery Related Issues
Conflict Resolution

Treatment modalities offered: talk therapy, Eye Movement Desensitization Reprocessing (EMDR), attachment, brain-health coaching, cognitive behavioral, play therapy (children and parents) solution-focused.
Solution-oriented Therapy
Cognitive Behavioral Therapy (CBT)
Children
Couple and Family Therapy
Attachment Issues and Development
Christine Ellis, M.A., M.S., LPC's Videos
Play, Learn, and Grow
Christine Ellis, M.A., M.S., LPC's Articles
Discover New Pearls of Wisdom